Are you feeling a little anxious these days?
Maybe it's a constant feeling for you or maybe it's a fleeting one that comes along at the busy times of year – like the start of a new school year.
Whichever it is, perhaps you know that feeling that comes along with it – the weight and the discomfort that rests upon your shoulders or makes it's home on your chest.
The other day I was feeling more than a bit anxious, and writing is a tool that helps me when that happens.
So I paused and found myself writing out a pretty goofy poem about an elephant. There's no resolution in the end, but sometimes it's more about the naming… yes?
If you need this poem today, I hope it finds you.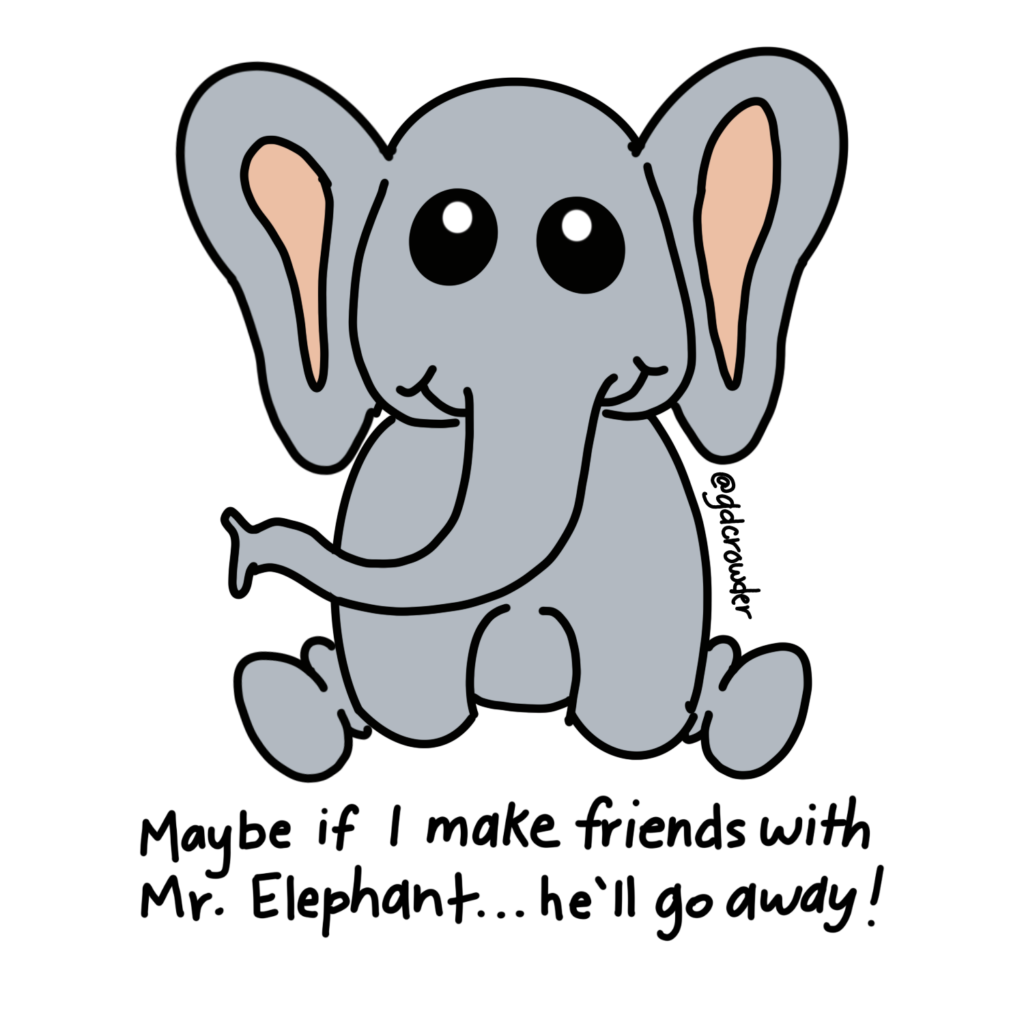 PLEASE JUST MOVE!
The strangest,
most unusual thing 
happened to me
just today.
I doubt 
you'll believe me,
but I promise
it's true!
Just today,
a big, grey 
and quite surly 
elephant
decided to take
a rest
smack dab
in the middle
of my chest.
I tried
to ignore him
hoping he'd 
rest up
and get on
his merry way.
But, sigh…
it's been hours,
and he's still
right there
attempting 
to make me
his forever 
home.
I guess 
I should
say hello
or something…
ask him 
his name…
or why 
he's here.
"Eh…hem, 
Mr. Elephant…
hello!"
I utter
in my calmest,
most rational 
voice.
"You know,
Mr. Elephant,
you kinda look
familiar.
Have we met?"
Despite my
putting on
the nicest 
of tones,
Mr. Elephant
held his tongue
and his heavy,
uncomfortable place
on my chest.
So, I tried again.
"Eh… hem,
Mr. Elephant…
hello!
You know,
I think you've 
been here 
before."
I decided
not to say
that it feels
like he gained
more than
a few pounds
since last
I felt his 
massive weight.
Again 
he said 
nothing.
Suddenly, 
I grew 
impatient with 
Mr. two-ton,
uninvited 
and quite 
unwelcome
guest. 
"Mr Elephant,"
I yelled.
"I.
Do.
Not.
Want.
You.
Here!
I don't mean
to be so direct…
but get the 
HELL OFF 
MY CHEST!"
At the
loud and 
quite unexpected 
tone 
of my voice,
Mr. Elephant
finally 
turned his head 
and oh so
calmly 
replied:
"Make me!"
©2022, Gretchen Crowder