Do you ever use absolute words like "always"?
…or maybe even "never"?
Do you use them often?
I think I do.
Ok I know I do.
I know I use them more often than I intend to. They are words that emphasize my point, after all. Like saying "That won't work!" sounds more passionate and declarative when you say "That will NEVER work!" and even more so when you add "in a million years" to the end.
I don't think I ever use the word NEVER intentionally. It just comes out. And when it does… someone is usually there to remind me "Never say never!"
(sometimes my internal monologue reminds me quite quickly indeed and unfortunately it is immune to my whitty comebacks)
So if you perhaps find yourself using the word NEVER right now a little more than usual even, maybe this poem is for you.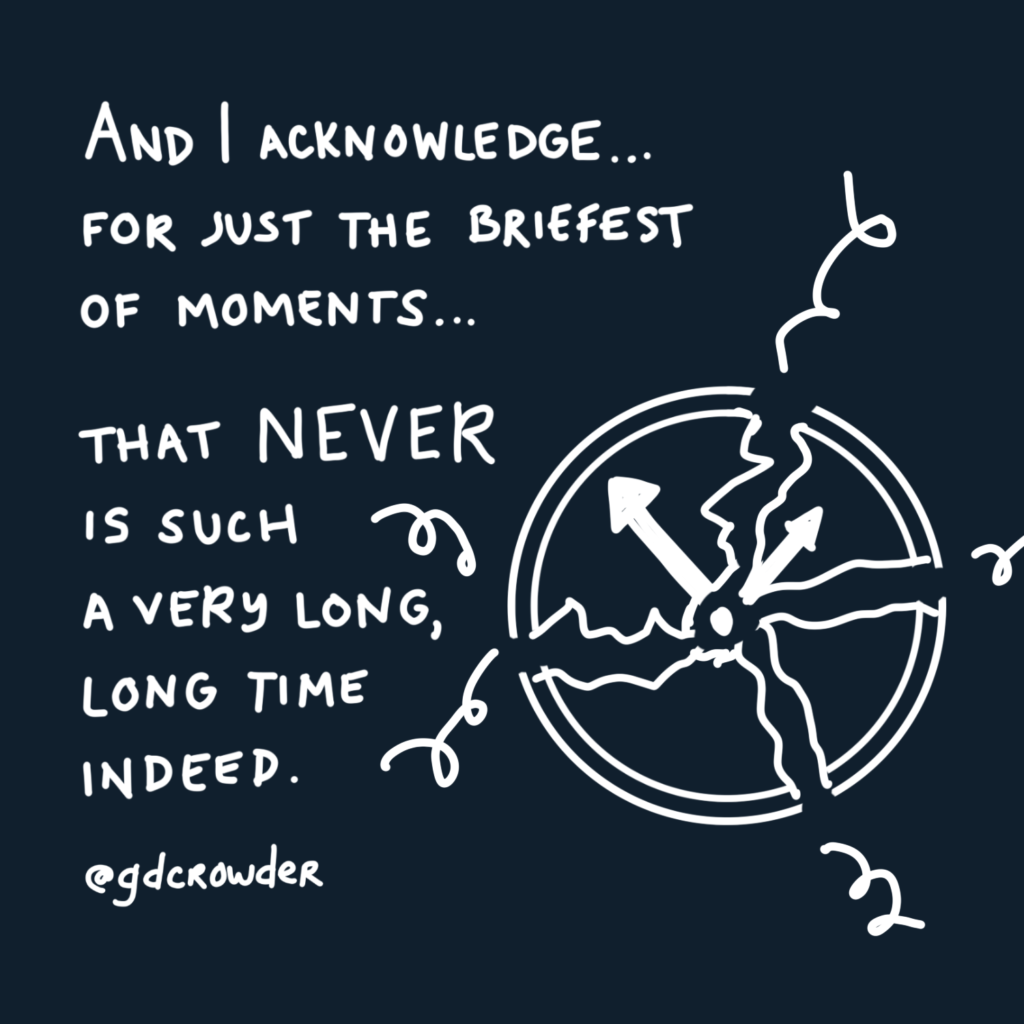 WHAT ABOUT SOMEDAY?
People tell me
all the time:
"Never say NEVER."
But you want
to know
the truth?
(Lean in close
so you don't
miss it.)
I say NEVER

all.
the.
time.
Sometimes I say it
in an almost indecipherable
whisper.
Sometimes I say it
in a loud, obnoxious
SHOUT.
I say NEVER
about A LOT
of things.
Like:
"I'll NEVER figure
this problem out."
"I'll NEVER
be able to
reach that goal."
"I'll NEVER
be forgiven."
"I'll NEVER
forgive."
See, I say it
all the time…
and with GUSTO!
And…
in the moment,
I think…
I might just
mean it.
But then,
well…
I somehow
end up
figuring it out,
reaching the goal,
feeling the redemption,
and even…
let it go…
And I acknowledge
for just the briefest
of moments…
that NEVER
is such
a very long,
long time
indeed.
©2002, Gretchen Crowder