I can easily fill every hour of my quarantined days.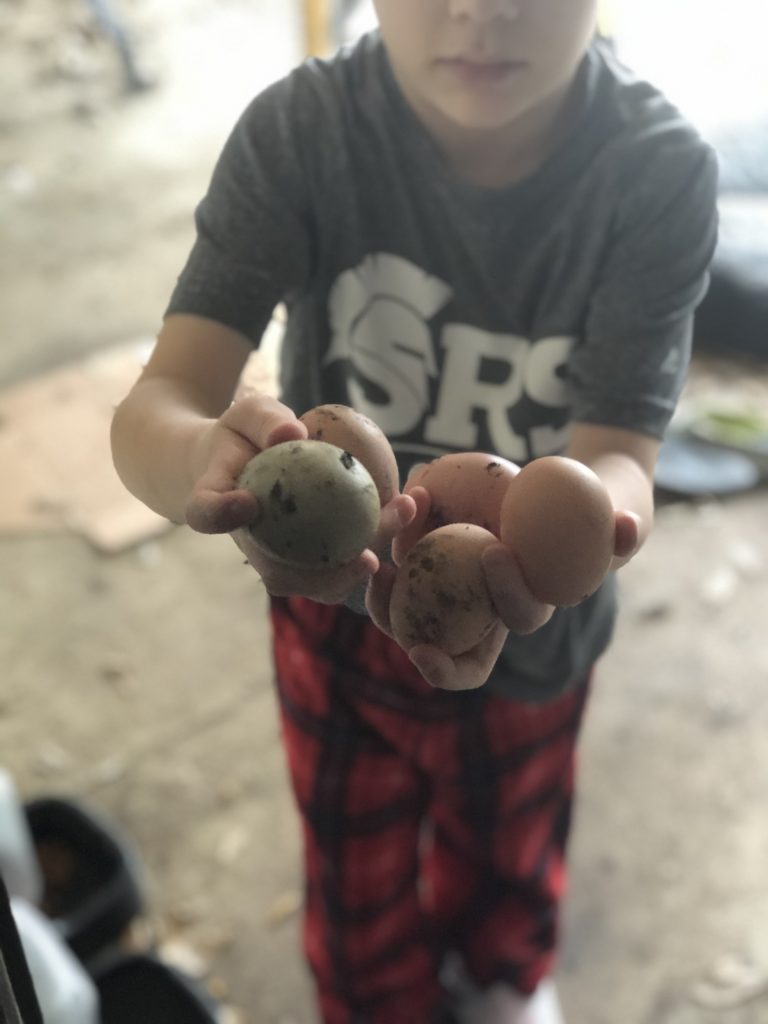 Even before shelter-in-place started this week, I found more than 100 ways to fill my time advertised on social media. As the posts said: I could re-organize my life; I could exercise several times a day; I could learn a new skill. It was all right there. I didn't have to be still or quiet even for a minute if I didn't want to.
I could choose not to linger.
I could choose not to notice.
Filling my days is quite easy, actually. After all, I have a job, three active kids to homeschool, and a husband still working outside the home. We have so much to do. I do not have to waste time lingering on anything.
But what would it look like if I did?
I captured this photo a couple days ago of my son entering our house having collected the days eggs from our chickens. Eggs are scarce right now because everyone wants to stock up on what they think they'll need… but for us (though quickly running out of toilet paper and paper towels) eggs are not a problem.
But besides a quick photo, do I pause to appreciate the chickens roaming our backyard or my husband who takes such good care of them for us?
We have the time now, but do we take it?
Do we linger?
This poem by Mary Oliver struck me this morning as I thought about how I am already filling my days:
"Oh do you have time to linger
for just a little while out of your busy
and very important day
for the goldfinches that have gathered
in a field of thistles for a musical battle
to see who can sing the highest note,
or the lowest,
or the most expressive of mirth,
or the most tender?
Their strong, blunt beaks
drink the air as they strive
melodiously
not for your sake and not for mine
and not for the sake of winning
but for sheer delight and gratitude –
believe us, they say, it is a serious thing
just to be alive on this fresh morning
in the broken world.
I beg of you, do not walk by without pausing
to attend to this rather ridiculous performance.
It could mean something.
It could mean everything.
It could be what Rilke meant, when he wrote:
"You must change your life."'
We have the chance to slow down and notice our lives.
Are we taking it?