On Holy Thursday, I picked up my son from school a little early so we could take our 6th chick home. (Did I mention we got chicks? Read about his full-court press here). As I walked in, the teacher's aide said "Big day for your son!" I laughed and said "I know, he can't stop talking about finishing his chicken flock today." Shaking her head, she laughed as well and said "No, he got an awesome Christian ribbon again today!"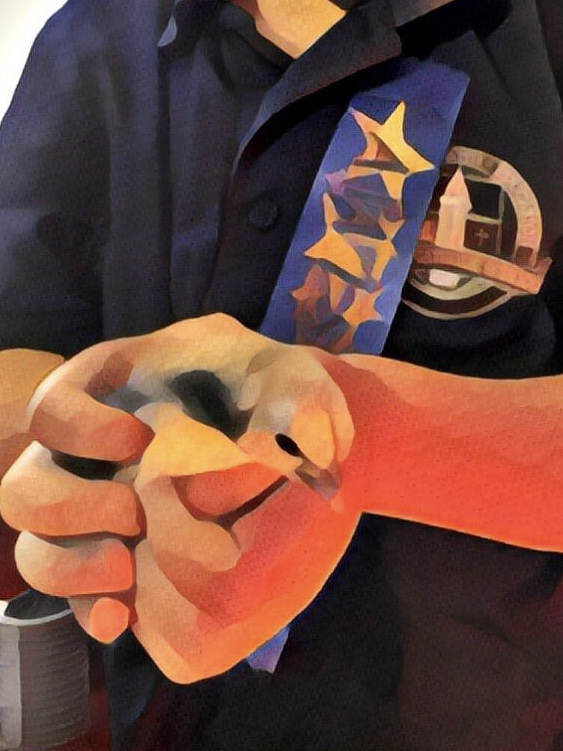 She went on to tell me that in their class focus circle the day before, the kids could not stop saying "You have to give him the ribbon! You have too!" They insisted because they had noticed that before the soccer game earlier in the week, my son had seen a friend fall and start crying. He went over and, though slightly smaller than his friend, tried his hardest to lift him up and investigate his wound. As she told me the story, I thought back to that moment at the game.

I had vaguely noticed this going down at the game, but I did not linger on it. Except, (I am a little ashamed to admit) to think "Man, I hope my son isn't bothering his friend." I wondered if I should go and intervene, but I didn't. And afterwards, I didn't say anything to him about it either. His friends, however, had noticed him. They had noticed his reaction was immediately to help, and they had fought to honor it. Celebrate it even. Two days later, they remembered and they rejoiced.

Life is so busy. And days, months, and years fly by. I blinked and it was Easter again. My three boys are a little taller and our family has increased by five fish, a few snails, and six chickens. Liturgically, Jesus had been born, ministered to the world, and died once again on the cross… and I wondered how well I had noticed. Or had it all happened with less regard or notice than it deserved? Did I fail to walk the Paschal path and mourn at the foot of the cross? Did I take the time to stand watch or did I leave Christ alone in the tomb? Did I stand with Mary by the opening and share in her surprise? Did I stop everything to run and tell all I saw that the Lord had died and the tomb was empty?

And now that it is Easter, will I take the time to breath in all the glory that comes with Christ's resurrection?

I pray we celebrate all the "Awesome Christians" in our life this day. Christianity and Christians themselves are far from perfect… but we have so many incredible signs of Christ's glory in our world that deserve our love and celebration!

He rose so that we might live! Alleluia! Alleluia!

End note: As I was writing this, my little Awesome Christian filled with the Spirit came by saying "Great job, mama! Great job!" Puzzled I said, "For what, honey?" Gesturing to the piles of clothes folded on the table, he said "For folding all that!"
Amen! Alleluia! Celebrate it all!