When I was a child, I thought there were just a few ways of praying. Besides going to mass, I had vivid memories of my mom in our small school chapel with a few friends, praying rhythmically through the rosary, repeating Hail Marys and Our Fathers from one decade to another alongside other people. In fact, the Hail Mary was really popular with my mom – she would take out her curling iron every morning and hold the curl for one whole Hail Mary. Her whole head was a decade. I was always fascinated by this habit!

This idea of what prayer was meant to be stuck with me through my first decade of teaching. The familiarity and repetition of traditional prayers informed how I prayed with my first students as well. I was taught by my professors in graduate school that the best way to quiet and focus a room full of students was to start with prayer. In fact, at my first school in Baton Rouge, LA, we were required to start with prayer… So, I dutifully started every class with a prayer (perhaps just a little afraid the first couple years that the principal would walk by and check!) And my go-to prayer for those early years of teaching? the Hail Mary. Every single class, every single day for ten straight years. I reasoned that you could not go wrong with the Mother of God – it worked for my mom's hair after all.

I always felt tremendously nervous praying with other people. I felt I was not quite "good" at praying. I would see others around me that would be kneeling in prayer, folding their hands, deeply engrossed in God… and I would, like someone does when they see a really great picture on Instagram, experience a bit of jealousy. I would even feel shame by my lack of connection to the Divine in such a clear and visible way. For years, I discounted my ways of connecting with the Lord as less-than prayer… something that was not quite getting at what prayer really was… and then, I discovered Ignatian Spirituality.

Learning about Ignatian Spirituality gave me insight into the idea that prayer was not one-dimensional. There was not only one way to talk to God or to help others speak to the Lord as well. For many years, I had thought that my ways of connecting with God – recognizing God in others, in nature, in the world at large, and through writing – were just not good enough when it came to prayer. But Ignatius teaches that we "find God in all things". We find God in ALL THINGS. So, it is no less finding God when I encounter someone and pause to say "That was Christ!" than it is when I recite the rosary, step-by-step, bead by bead.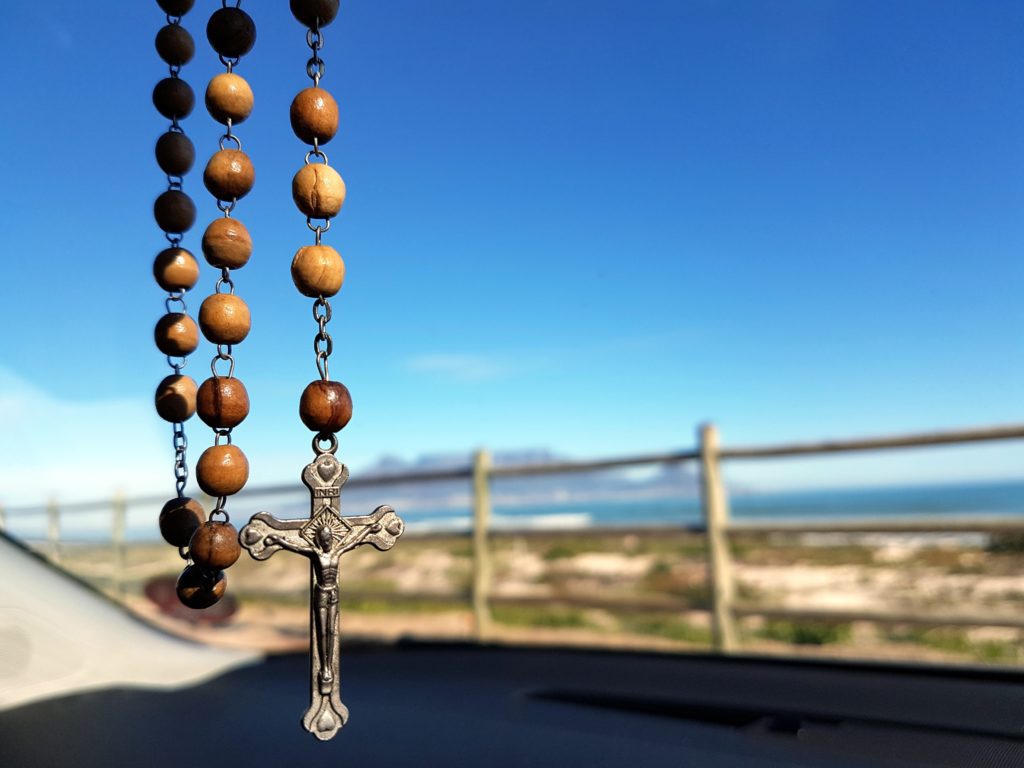 Discovering that I might in fact be praying when I thought I was just faking it was completely eye-opening to me. And over time, I realized that the way in which I am able to pray most effectively is by examining my faith through both reflection and study. And most importantly – through writing. The structure of the Jesuit Examen has been instrumental in helping me reflect on my days effectively. The Examen invites me to pause each day and ask for the Holy Spirit to help me examine my day. The structure stresses the importance of starting with gratitude and leading towards a reflection of where I saw God and where God was harder for me to see in my daily activities. It also invites me to look forward to the next day and think about concrete ways I can look for God in the future.

Today, I lead people in prayer a little differently than I did those first few years of teaching, but I remember those first few years so fondly because it was during them that I was able to get out of my comfort zone and show my students how I best communicated with God at that moment in time. It helped me to realize that prayer doesn't have to be perfect, it doesn't have to be creative, it just has to be me, God, and them.

Recently, I have even had the great opportunity of teaching a few classes about prayer. One of the most powerful things I learned in preparing those classes was just how often Jesus prayed. I think I noticed this a little throughout my life whenever those Scriptures had come up in the liturgy, but it was a different experience looking directly at all the times Jesus actually prayed throughout the Gospels – he prayed alone, he prayed with others, he prayed through Scripture. Jesus was human, even in the action of praying. And as I studied and reflected more on Jesus's life, I came to realize that His life was, in fact, a prayer. Everything he did was directed towards God – the way He spoke with others, the way He interacted with friends and family, even the way that He walked alongside his parents as He grew. His walk towards Calvary was also a prayer, perhaps the best prayer ever written – a complete and total giving of self to God in the presence of others.

May your life and mine be a prayer to God today in every breath, every action, and every word. And most of all, may we recognize and value the many diverse ways we pray with the whole of who we are.