The contents of my recycling bin are currently scattered all over my house.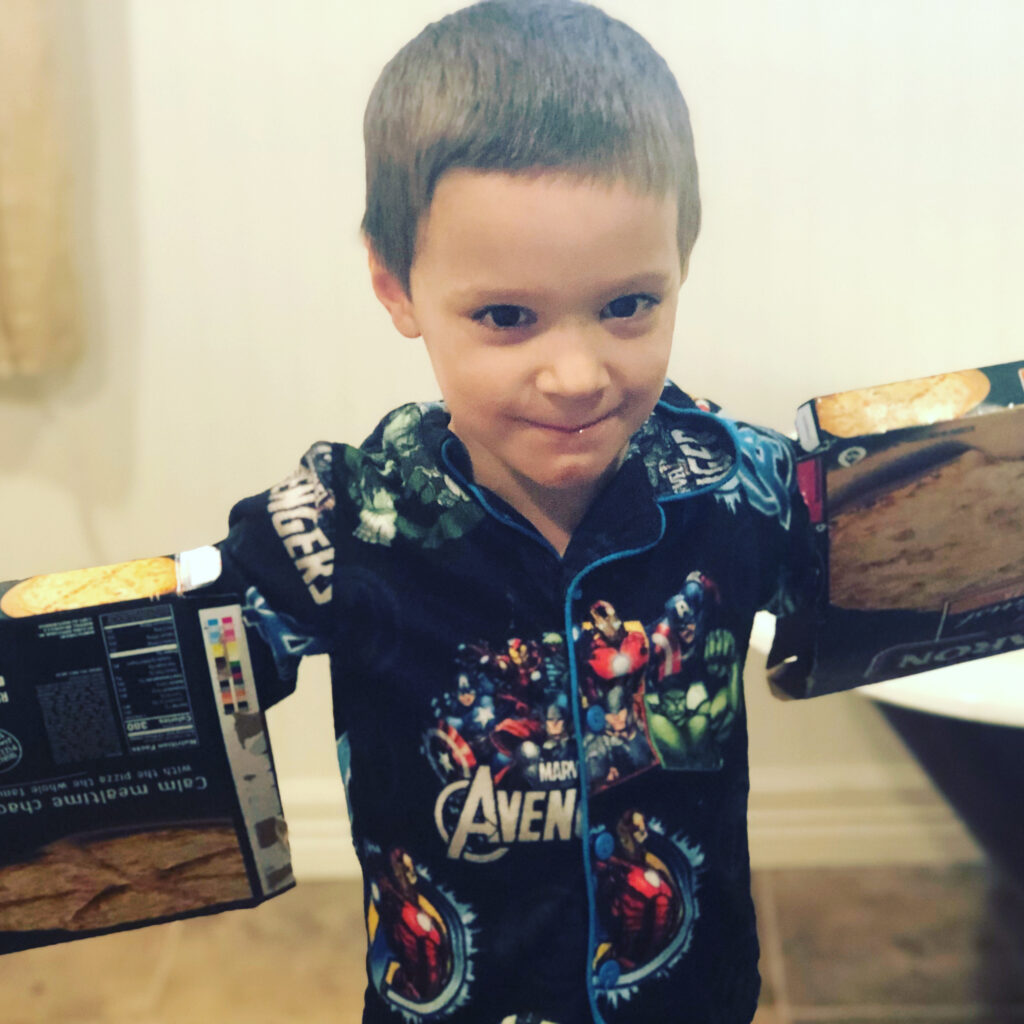 "Mom, can I use this milk carton to build a robot?" one child asked followed by the another inquiring about a stray pizza carton and a discarded can of seltzer water. Yesterday, I swear they took a milk carton directly from the fridge that still had milk in it and cleaned it out to finish up one of their creations. I can't prove it though… they did while I was working and they did a darn a good job of making it clean. My only hint is that it seems like we are suddenly a little deficient in the milk department…
I admire their creativity though. Yesterday, they used half a roll of tape, paper, and several discarded boxes to try and copy the robot they love watching most on TV. Two days ago, one child used the other half of the tape to make himself a "skirt like people wear for dancing." And while I was trying to get ready yesterday to go to work, a boy greeted me in the bathroom with his arms in pizza boxes. "Look mom, I have wings!"
It's amazing what one can do with a few discarded boxes, a ton of tape, and a bit of imagination.
Maybe that's all we need to enter this August and piece our lives back to some sense of normalcy. I wonder often as I search amazon for all the things my boys might need to have a comfortable entrance into school that maybe all the tools they really need are already there inside of them.
And maybe they are inside us too.
In an effort to be careful about this virus as well as the economic challenges of this day, we have stripped down our lives and even our classrooms to the bare minimum…. And that can feel a little disquieting. But let us not forget that our imaginations do not need a whole lot to run wild and create a beautiful world for our students.
Today I pray that we are infused with the creativity of a few little boys with a recycling bin and some tape. May we be graced by God to believe in our ability to make a magnificent world out of whatever we have in front of us.
And may we remember that the most important tool we have is love. It's free and unlike my tape and milk – it never runs out!