Last night I tore up wood floor planks yelling "take that covid!"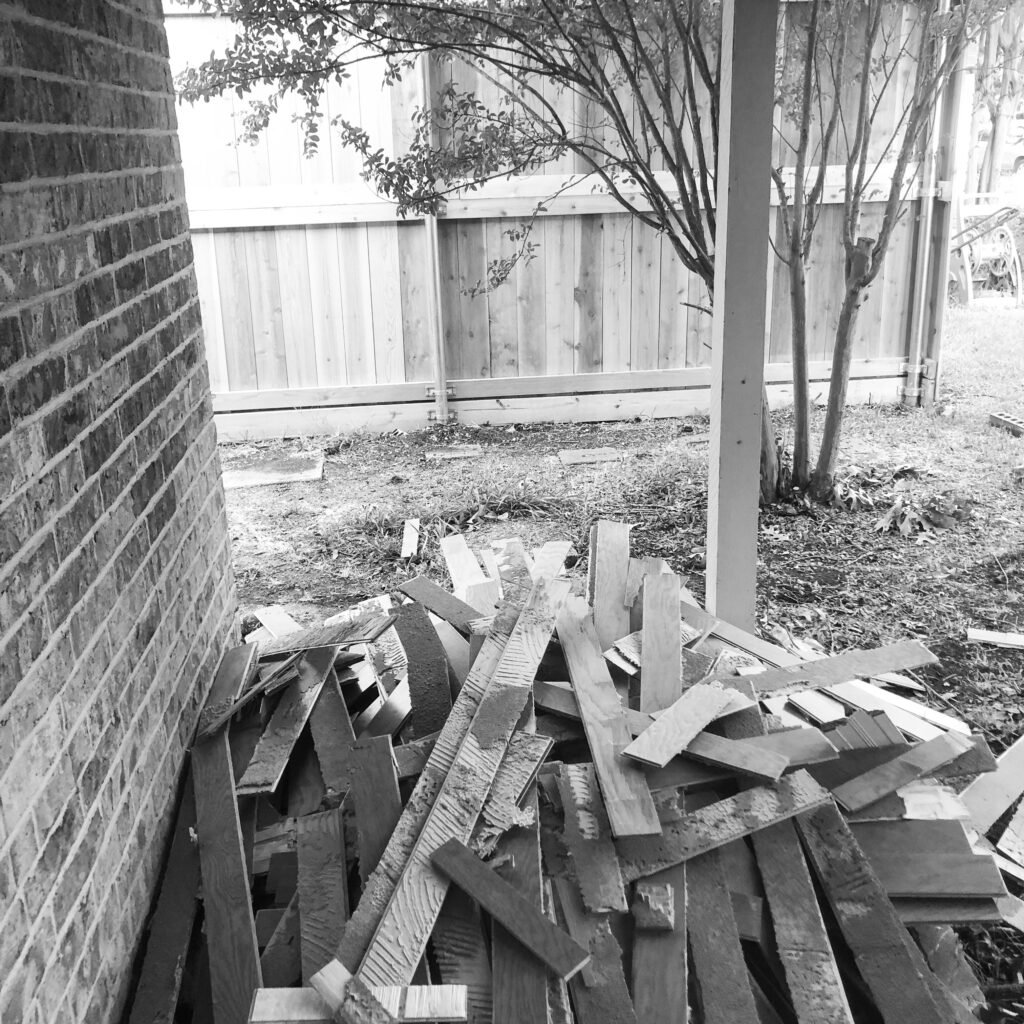 I don't know how you are coping with stress right now – but I'm coping through home improvement. After four days of cleaning out all the things, I decided that the floor in our front room just had to go.
So, yesterday I took the furniture in that room and shoved it elsewhere. The other rooms are a bit overcrowded now – I have the bruises to prove it from so many oddly placed corners. Maybe they can be motivation to keep going when I realize what I've started.
Because once the room was empty, I noticed the walls. The walls painted with shiny tan paint and a LOT of texture. It's a nightmare to change. But, well, covid… so let's tack that on. Oh and while we are at it, the ornate chandelier that we keep bumping our heads on needs to go.
A quick "let's do the floors" has become a two week project.
So last night, my husband and I teamed up to remove the floor. I don't know how he felt, but shoving that scraping tool under those wooden planks and ripping them up – it was oddly satisfying. "Take that covid!"
As we worked, my boys suddenly snuck into the room. They whispered to each other to grab the boards and one after another they walked the boards out the side door and stacked them up. "We are helping!" they exclaimed when we finally looked up. It was kinda nice that the covid room remodel became a family affair. I'll even excuse the trail of three pairs of tiny dusty footprints across our house.
This morning I'm filtering between feelings of "what did I start?" and "let's do this!" as I stare at the torn up front room of our house. I'm hoping "let's do this" wins.
To help, I'm starting my day staring at this pile of wood so it can remind me that sometimes you just have to let go of the old so you can see new possibilities.
Maybe that applies to more than just my floor this year?
My prayer for us this morning is that we are able to rip up the things that are holding us back from embracing change. May God help us let go of the old so we can move into the inevitable new. Who knows? It might be exactly what we were always waiting for.
May God grace us with hope.