I was so breathless in this moment.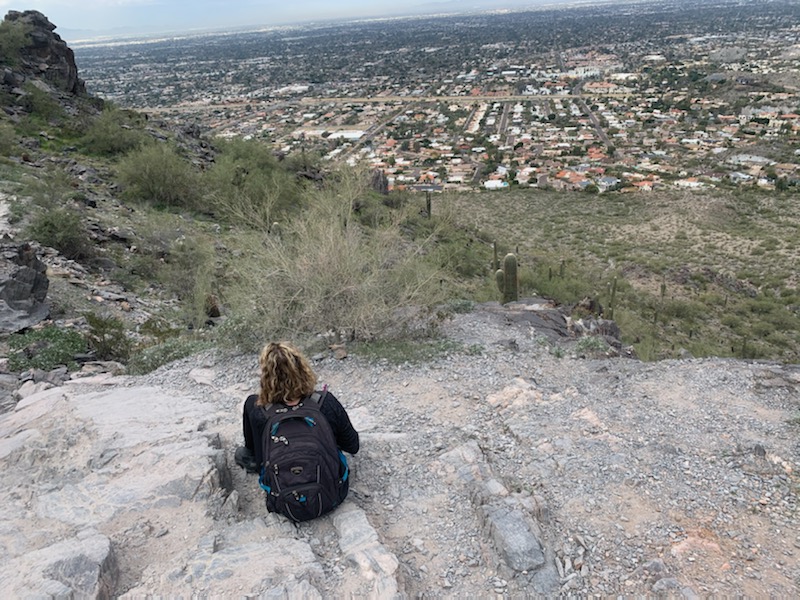 But it was not because of the view in front of me… at least not completely. I was literally breathless. I sat down to catch my breath and slow down my heart after an hour and a half of hiking. I felt super out of shape.
I'm in Phoenix at a conference near some mountains, so it makes sense that I should try and hike at least one. This hike was beautiful too… a sloping, rocky climb. And I thought "No problem, I can make it to the top of this one." And I thought we almost did, but then there was another peak and another peak… and at some point I just sat down, right in the middle of the trail, and turned to catch my breath. I was dusty, exhausted, and frustrated that I seemed to not be able to keep going on pure desire alone. 
I sat down right in the middle of the path and turned to face the world – to face the immense beauty of God's creation unfolding before me. And as my breath slowed, I finally stopped and paid attention.
Mary Oliver once said: "Ten times a day something happens to me like this – some strengthening throb of amazement – some good sweet empathic ping and swell. This is the first, the wildest and the wisest thing I know: that the soul exists and is built entirely out of attentiveness."
Where can you stop and breathe today and let amazement overcome you?