A couple years ago, my husband and I felt super-brave on a Friday night and decided to take our two, two, and four year olds to a Friday night high school football game. Now, perhaps many would have already done this a lot earlier… but we are admittedly homebodies who spent quite some time analyzing whether or not the stress of hustling three kids (two of whom were still working on potty training) to a game that started past their bedtime was really worth it. In the end we decided to go for it and during the first ten minutes, I found myself thinking "I got this, this was a great idea. Look how cute they are in their matching t-shirts." The next twenty minutes, however, were a little more stressful as one-liners like the following came out of my mouth for all to hear:
"No we don't touch trash cans with our mouths."
"No we can't eat something we dropped on the floor."
"No we definitely can't eat something we've both dropped on the floor and stepped on."
"I am so sorry sir that my two year old just bear-hugged your leg, we are working on boundaries."
"Excuse me miss, did my son just put his dirty napkin on your plate? Honey, we don't put our trash on another person's plate… yes, even if you thought it was a gift."
And at this point… we had not even made it to the field yet.

But then, we finally did get to the field (and thankfully all three were still accounted for). I paused for a moment to take a breath, and I was suddenly struck by what I saw.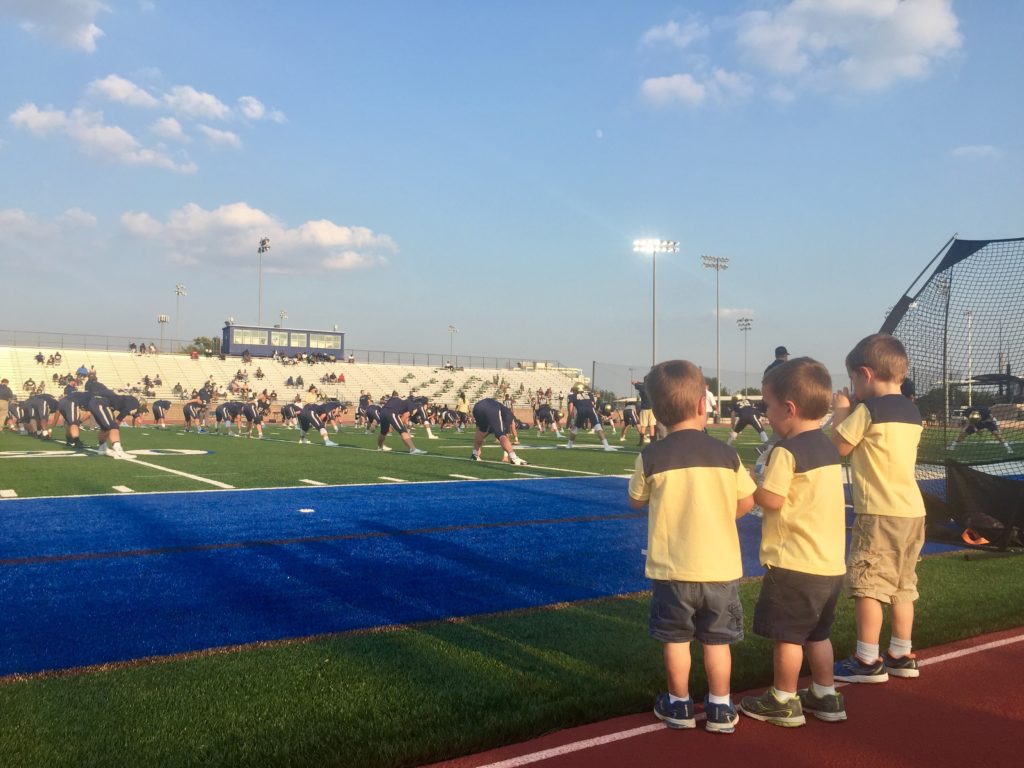 The three little bundles of energy had stopped short on at the edge of the field in awe of what was in front of them. They stood quietly, almost reverently staring at a sea of young men in uniforms on the field. I can only imagine what they were wondering as they watched. Perhaps something like: "How'd those boys get so big? Will I ever be as big as them?"

Nowadays my boys are two years older, and we take them to a lot more places and events. And, therefore, they get to witness more often these "giant" teenage boys in action – sometimes as bystanders on the sidelines and sometimes more directly. I have no idea if these young men realize what a profound impact they can have on the children who look up to them. I do know, however, that I am blessed to witness the wonderful impact they have made on my little ones thus far.

This year, in particular, one of the "giant" teenagers took my older son under his wing and profoundly changed his year. One Friday night, my son and I took in a high school game together. This time, however, instead of my son standing on the sidelines watching a big sea of uniforms practice in front of him and wondering if he'd ever get the chance to be just like them… this time, one of the uniforms walked right up to him and said "Hey buddy, I wear hearing aids just like you. Thank you for coming to my game." This simple statement, coupled with a fist bump lit up my son's face with a huge smile. And at the end of the game, my son, who previously had a tenuous relationship with sports (at best), skipped excitedly all the way to the car saying: "Momma, guess what? I can play soccer, baseball, football, basketball… I can play anything! Can you sign me up?"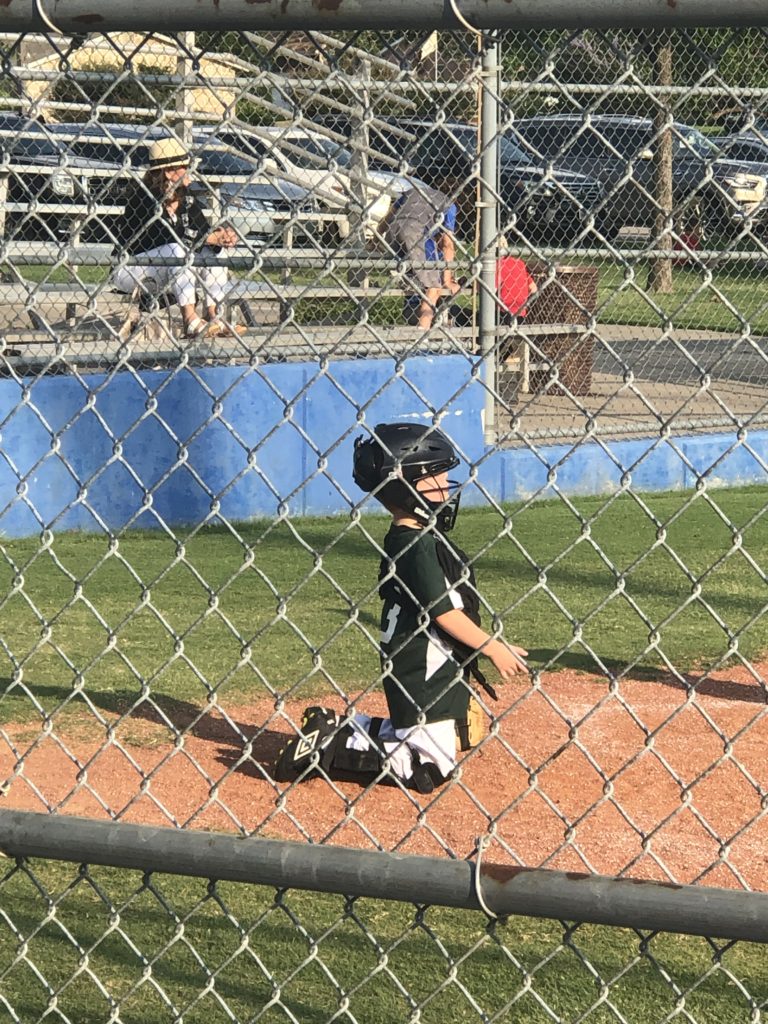 Because of that one, seemingly insignificant moment, I got to experience some incredible moments with my son this year in soccer, basketball, and baseball. Including this one that happened just last night in baseball where he finally put on all the catcher's gear crouched confidently behind the plate.
As we head into summer, may we all be able to realize the profound impact of our words and actions and continue to be the role models God is calling us to be.